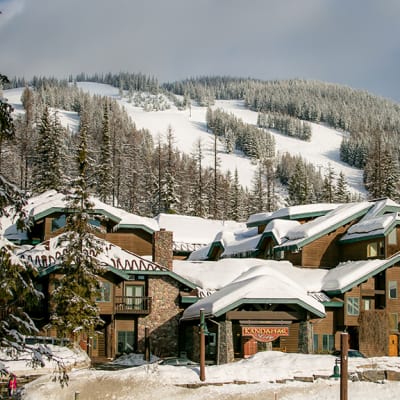 Close to Glacier National Park and Ski-In at Whitefish Mountain Resort
Kandahar is located less than an hour from Glacier National Park
Kandahar is a mountain lodge located near Glacier National Park. The mountain road is a scenic 15 minute drive above Whitefish, Montana. Within an hour you can drive to the west entrance of Glacier National Park.
We offer a ski-in location. At the end of your ski day simply ski down Hailey's Run to the hotel. At the beginning of the ski day you can choose a short walk (across the parking lot) and ski down to Chair 6 or we will take you to the lift plaza in the Resort Village in our van.
While the Resort is very easy to walk around, the Kandahar van is available for shuttles to/from any location in the Village during daytime hours.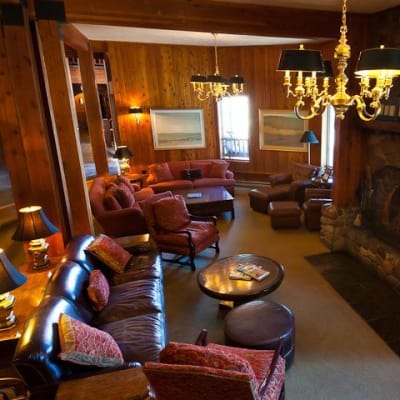 Great Room
Kandahar has a beautiful great room with free WIFI
Our large great room and breakfast nook area features comfortable furniture and a wood burning fireplace that rarely goes out. A perfect place to settle in with a good book. A variety of board games are available for some family/friend fun. We also have a sitting area with a big screen TV. Free wireless Internet service (password secured) is available in the great room, in the guest rooms and throughout the Lodge.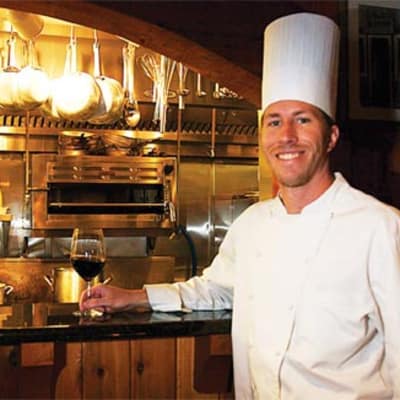 Fine Dining
Cafe Kandahar offers fine dining in Whitefish, Montana
Cafe Kandahar is privately owned and operated by Chef Andy Blanton.The Cafe boasts an extensive wine list garnering numerous accolades such as "The Wine Spectator Award of Excellence" (since 1998) and the "Wine Enthusiasts Award of Unique Distinction" (since 2004). Chef Andy has been honored by multiple nominations for "Best of" from the James Beard Foundation. He was invited to travel to the James Beard House in New York to prepare a meal.
Specializing in the art of pairing food and wine, the Café delights patrons with features of both
The Cafe Kandahar staff is available to host holiday parties, banquets, wedding receptions, business luncheon/dinners for parties of 25 or more. Please call Dalise Blanton.

Reservations are highly recommended. Call (406) 862-6247 or e-mail dalise@lcblanton to make a Cafe reservation or arrangements for a group.
Chef Andy Blanton prepares a meal for you at Chef's Table
If you have not yet experienced the Chef's Table, it is a unique and rare opportunity to have Chef Andy Blanton prepare a multi-course meal right before your eyes. He creates the menu based around your likes and dislikes, so you essentially receive a custom-tailored menu and an unforgettable experience!
Cafe Kandahar serves dinners only. Please call 406-862-6247 or e-mail dalise@lcblanton.com to confirm that Cafe is open and serving the night of your choice. Operating hours vary. Opening for the summer season on June 14th.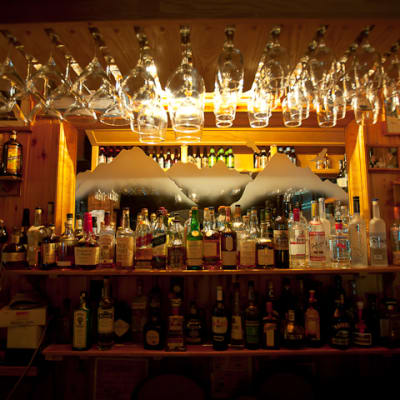 Snug Bar
Fabulous wine, exciting mixology and excellent appetizers
The Snug Bar is opening early this summer. It will be open Friday and Saturday - June 1 and 2 and June 8 and 9 before opening 7 nights/week beginning on June 14th.
The Snug Bar is also owned and operated by Chef Andy Blanton. It is located just off of our great room. The bar features a casual gathering spot where guests share their stories of the day. The Snug Bar is fully licensed and provides beverage service to the Cafe and great room of the Lodge.The Snug has a appetizer and tapas menu that varies seasonally. The Snug opens at 4pm and begins food service at 5pm.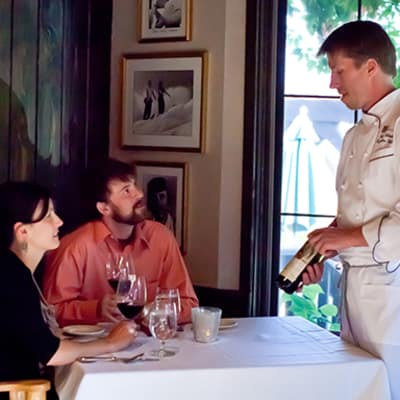 In the News!
winereviewonline.com

It's Game Time! By Sarah Belk King
"Elk is lean, nutritious, and has tremendous flavor," says Andy Blanton, Executive Chef and owner of Café Kandahar in Whitefish, Montana. "But another reason elk is so popular on our menu is that it's indigenous to our landscape.'
The young chef's French-inspired cuisine is well worth the trip to the breathtakingly beautiful town just south of Glacier National Park. Cafe Kandahar is an intriguing restaurant: There's a delightful juxtaposition of white linen table service and hungry, ruddy-faced diners in ski clothes.
"We serve fine cuisine -- including a degustation menu with wines to match each course -- but we welcome everyone and anyone with an appetite!' says Blanton.
No tie, no jacket? No problem.
As an Easterner turned Westerner, I'll admit I'm a bit jaded. I thought Café Kandahar was just another mountain resort restaurant, with the requisite fondue, steaks, and double-stuffed potatoes. Shame on me. Chef Blanton's thoughtfully constructed cuisine will no doubt remain in my culinary memory forever.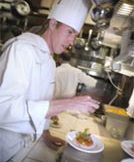 Blanton graduated from the Culinary Arts Institute of Louisiana in Baton Rouge, then worked at Commander's Palace and Brigtsen's in New Orleans. Now, at the ripe old age of 31, he has come into his own. To me, his fare is reminiscent of that of the young David Bouley, when he was making a name for himself at Tribeca's Montrachet in the 1980s. Blanton is a talent to watch, indeed.
But back to the main topic of this column: the majestic elk. "We serve it carpaccio-style as a starter, as well as a main course. Diners inevitably say, 'I had no idea elk could be this good!' " says Blanton.
Can't find elk at your local butcher shop? No worries. Extraordinary all-natural, grass-fed elk medallions can be procured from Montana Fish Company/Montana Beef and Game Company (phone 406.556.0200; ask for Kevin Stein or Travis Byerly).
For a slightly gamier texture and flavor, try elk ribeye steaks raised in Montrose, Colorado, available from Underhill Farms in Moundridge, Kansas (phone 888-361.3261). Whether you opt for medallions or ribeye, do order more than you think you'll need; both cuts freeze beautifully.
CAFÉ KANDAHAR'S ELK MEDALLIONS
WITH DRIED CHERRY COMPOTE
Serves 4
This easy, relatively quick dish is perfect for special occasions -- or for no occasion at all. The recipe can be halved or doubled; simply adjust skillet size and timing accordingly. Suggested side dishes: sweet potato puree, wilted spinach, and plenty of crusty French bread for sopping up the sauce.

½ cup port (Blanton uses ruby port, but tawny is fine, too)
½ cup dried cherries
3 tablespoons olive oil
¼ cup minced shallots
Pinch ground allspice
1 small bay leaf
2 sprigs fresh thyme
2 tablespoons rice wine vinegar
2 tablespoons balsamic vinegar
2 tablespoons sugar
½ cup water
Four 6-ounce elk medallions
1 teaspoon kosher salt
½ teaspoon freshly ground black pepper
Place port in a small saucepan over high heat and bring to a simmer. Remove from heat, add cherries, and let stand at least 15 minutes.
Place 2 tablespoons of the olive oil in a medium skillet over medium-low heat. Add shallots and sauté for 1 to 2 minutes or until shallots are translucent; do not let the shallots brown. Add allspice, bay leaf and thyme to the shallots and stir to combine. Add cherries and port to the shallot-herb mixture. Add rice wine vinegar, balsamic vinegar, sugar and water to the shallot-port mixture and simmer uncovered for about 10 minutes or until mixture begins to thicken ; it should be moist but not runny.
Meanwhile, season elk medallions on both sides with salt and pepper. Place remaining tablespoon of olive oil in a large, heavy skillet over medium-high heat. When hot, add medallions and sear on both sides, about 3 minutes per side. (Note: After 6 minutes total, the elk medallions will be medium-rare. If using elk ribeye steaks, you may want to add 1 to 3 minutes to the cooking time since they tend to be thicker than medallions).
Remove bay leaf and thyme sprigs from cherry compote. (Note: The compote can be made several days in advance and warmed before serving).
Place one medallion on each serving plate and top with cherry compote. Serve immediately.
Wine suggestions from Sommelier Renee Nadon at Café Kandahar
2005 Amavi Cellars Syrah, Walla Walla, Washington
2005 Delille Cellars "Doyenne" Syrah, Red Mountain, Washington
2005 Ridge Lytton Springs Zinfandel, Dry Creek Valley
2005 Turley "Mead Ranch" Zinfandel, Atlas Peak
Photos by Sarah Belk King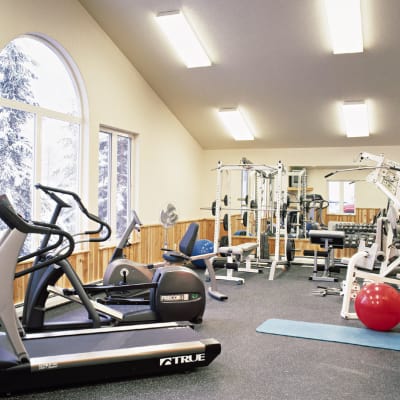 Wellness Center
Kandahar's Wellness Center has massage treatments
The Kandahar Wellness Center has a large outdoor hot tub, steam room, exercise room and massage treatment room.
Yoga classes are held in the Wellness Center on Thursdays at 4:30pm. Classes begin in January.
The Massage Suite is available by appointment - call Jacqueline Eaton at 406-261-8002.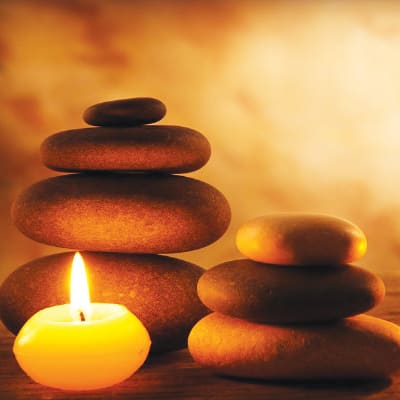 Massage on the Mountain
The Studio at Kandahar Lodge
The power of touch with therapeutic application and intention can relax, relieve pain and promote healing of the body and mind.
Therapeutic Table Massage - 60 minutes $110 * 90 minutes $155 * 2 full hours $195
A combination of the following modalities may be used by the therapist:
*Swedish *Deep Tissue *Sports *Trigger Point/Neuromuscular *Acupressure *Tue Na *Shiatsu *Merdian
Special Enhancements and Treatments
*Foot and Hand Reflexology *Aromatherapy *Hot Stones *Cool Moonstone Facial Treatment
By appointment BOOK NOW - text or call 406-885-3465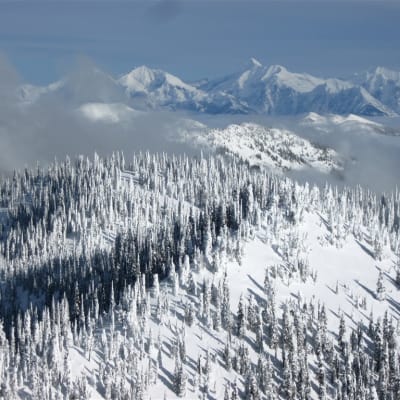 What's New
E-news from Kandahar and Whitefish Mountain Resort
What's New at Kandahar Lodge
Latest publications
Kandahar's Latest Newsletter
Kandahar Lodge opens for winter season Friday, December 7, 2018 and closes Sunday, April 7, 2019. During the fall our office hours are Monday through Friday, 8:30-4:30. Summer 2019 begins May 31, 2019 and will close September 29, 2019.
Latest Whitefish Mountain Resort Newsletter
Whitefish Mountain Resort opens for winter on Thursday, December 6, 2018 and closes Sunday, April 7, 2019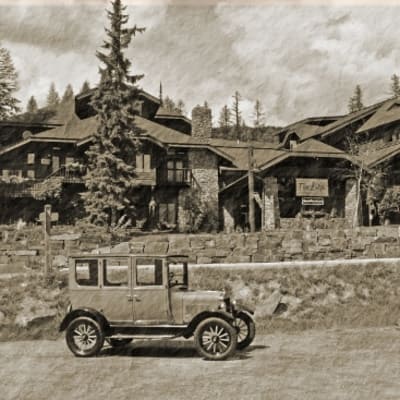 History
Story of how Kandahar Lodge got its name
To skiers and non-skiers alike, the name Kandahar generally is a puzzle and rightfully deserves an explanation. First of all, Kandahar ( which is a corruption of Alexandria) is the name of a town in Afghanistan actually founded by Alexander the Great during his monumental march Eastward to India and beyond.
Now, the tenuous link between the town of Kandahar and skiing is provided centuries later by British General Frederick Skeigh Roberts who, in August,1880, marched 10,000 men from Kabul to Kandahar, a distance of 313 miles, in 22 days to relieve the siege of a British Garrison stationed there. A grateful British government chose to knight him for this effort in 1882, and, in keeping with custom, he chose the name of one of his campaigns. Thus, the general became the first Lord Roberts of Kandahar.
Lord Roberts became vice-president of the Public Schools Alpine Sports Club in 1903 and eight years later, on January 11, 1911, a group of Englishmen held the world's very first downhill ski race in Montana-sur-Sierre, Switzerland, and Lord Roberts lent his name to the ski trophy awarded the winner. This trophy was known as the Roberts of Kandahar Challenge Cup and is used to this day for the premier of world downhill racing.
Finally, in January, 1924, a group of British alpine ski pioneers decided to form a ski club at Muren, Switzerland, and for want of a better name decided to simply take the name Kandahar and use a block 'K' for a patch, thus starting what is undoubtedly the most famous ski club in the world. The Kandahar Ski Club was then instrumental in organizing the first international ski meet ever to be decided on the combined result of both downhill and slalom races. From that day forward a ski race meet was known simply as a Kandahar!
The driving force behind the Kandahar Ski Club was Sir Arnold Lunn, the man who invented and named the slalom ski race. Strangely enough, Sir Arnold always regretted his attaching the old Norwegian name slalom to his invention, recognizing that the German world torlauf (gate race) would have been far more appropriate.
On March 3 and 4, 1928, Sir Arnold and his friend Hannes Schneider inaugurated and supervised the first Arlberg-Kandahar race in St. Anton, Austria, a full two years before the FIS recognized downhill and slalom racing and three years before the first World Championships in the Alpine Combined.
When Mary Pat and Buck Love built the Lodge in 1981 they wanted a name that meant something in the ski world. Kandahar fit because ski racing was important to the Love's with both daughters racing for several years and Buck and Mary Pat often attending World Cup events. The European connection also suited the Lodge as its design reminds guests of European Inns they have visited.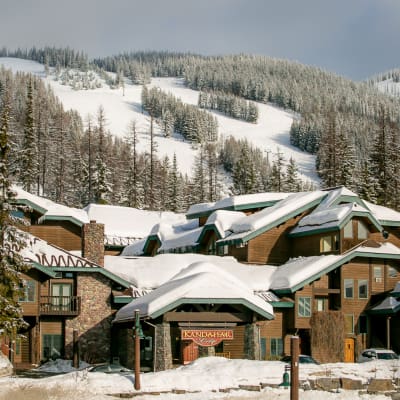 Photo Gallery